War Stories
LOST and FOUND
William R Hayes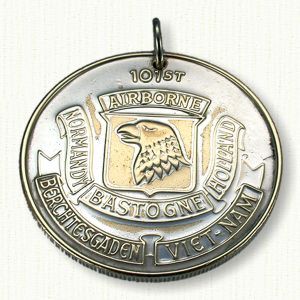 The last day in the Republic of Vietnam found me in a formation of short time vets, waiting to be processed out of country. The formation was ordered to attention, and we heard the same old RAH RAH speech as before, but after all was said and done we were surprised to receive two items that remain close to my heart. One was a yearbook of the 101s first year in country, the other was a challenge coin.
After I returned to the BIG PX, (USA) the 101challenge coin was holed and strung around my neck for all to see. I wore it this way for a couple years and then one day I no longer had my beloved coin on my person. Years past by and I continued to wondered what had happened to my prized possession. One day I received a call from my mother, she stated that, one of our ex-neighbors had found something of interest and mailed it to my mother. Mrs. A. Woodson while working in her garden, she dug up my medallion.
The medallion had been engraved with my name and unit, so she (Mrs. Woodson) knew where to send my long lost coin. I drove to my motherís house, as I entered the door, she presented the coin and asked, and do you remember this? When I laid my eyes on the piece in her hands, I gave out a loud yell grabbed my mother in my arms and hugged her with all my might. My lost love of 15 years had returned.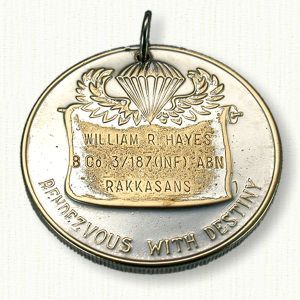 Reunited with my challenge coin once again, I began to trace my memory back to the time I first realized I had lost it. Like a bolt out of the blue, it hit me. Every year, after returning from the nam, myself and other vets from the old neighborhood, would get together and play the annual Turkey Bowl football game against the young upstarts. The game was played at 12 noon on Thanksgiving Day at the Friendship House field in Lackawanna N.Y. I do recall me and some friends were having a playful pulling and tugging match as we exited the Woodson`s home.
I no longer keep the original around my neck; it is kept in a nice safe place until it is inherited by one of my children.
Others who owned this piece have placed the medallion on EBay to my chagrin. I could never sell a piece of my being; the history that is contained is to me priceless.